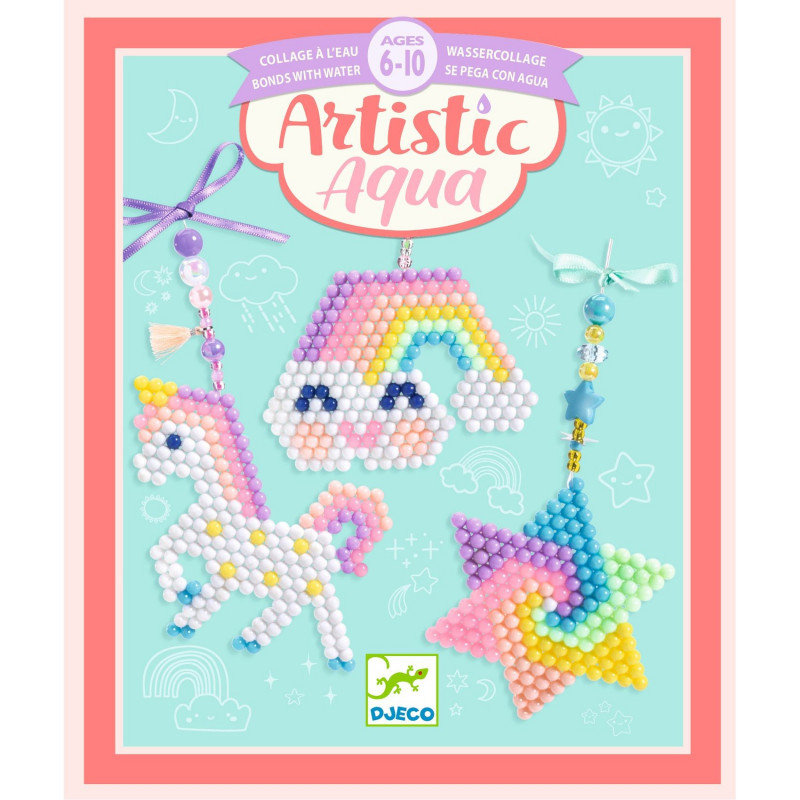  
ARTISTIC AQUA - RAINBOW
A kit for creating 3 pendants in pastel colours with beads that stick to water. Children start by placing the template underneath the clear dimpled board. They place the coloured stick-with-water balls on top to replicate the design, then spray water over their creation. As they dry, the balls stick together – it's like magic! Last but not least, beads, ribbons and charms can be added to transform their creations into pretty wall hangings
A kit for creating 3 pendants in pastel colours with beads that stick to water. Children start by placing the template underneath the clear dimpled board. They place the coloured stick-with-water balls on top to replicate the design, then spray water over their creation. As they dry, the balls stick together – it's like magic! Last but not least, beads, ribbons and charms can be added to transform their creations into pretty wall hangings.

It's like magic! The balls stick to each other when they come into contact with water.
The clear board shows the templates for copying.
The dimpled board holds the beads in place while working on the design.
Lots of accessories for customising hanging designs.
1 detailed step-by-step instruction booklet.

Contents: 1 workstation board, 1 spray bottle, 1 selection of plastic stick-with-water balls (8 colours), beads and charms, clear elastic cord, ribbons, 1 needle, 1 needle threader, 1 colour step-by-step instruction booklet.
Data sheet
Dimensions

14 x 16 cm

Pack dimensions

15,5 x 18,5 x 3 cm

Language(s)

French, English, German, Spanish, Italian, Portuguese, Dutch, Swedish, Danish, Russian

Country of origin

China
Specific References
ean13

3070900094840
No customer reviews for the moment.
12 other products in the same category: